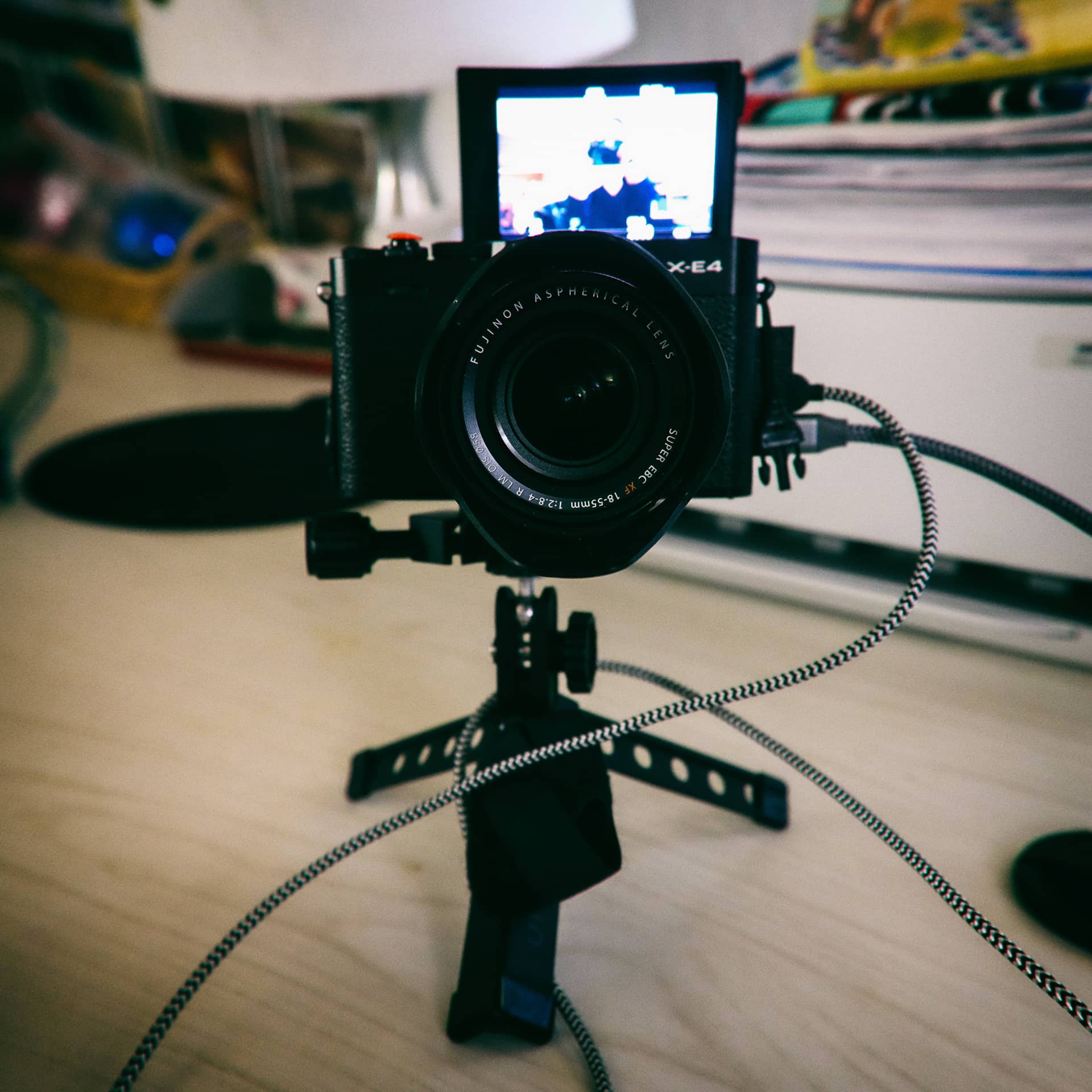 Photo info: FUJIFILM X100T, 23mm, f/3.6, 1/30 sec, ISO3200

I spent a couple of hours setting up my Fujifilm X-E4 to be a webcam so I could use it with Zoom. There are a few ways to do this, including using Fujifilm's own Fujifilm X Webcam software, but I've found the best way to do it is to use the camera's micro-HDMI connection, a micro-HDMI to HDMI cable, and an inexpensive HDMI to USB capture device. This device plugs into a regular USB-A port on your computer and will appear as another camera option in Zoom or other video conferencing system.
On the camera, there are a few settings I've found work the best.
Movie Settings: First, while in Movie Drive Mode, go to the Movie Settings, adjust the Movie Mode to be FHD (29.97P) and the Full HD Movie Output setting to only send the signal to HDMI, and to NOT record to SD card. This will reduce the power consumption and also the heat buildup. I had this set to 4K and recording to SD card as well as outputting to the HDMI port, and the camera shut down after a few minutes because it got too hot. But by switching to lower resolution and not recording to the card, the camera did not come close to overheating.
Also in the Movie Settings, set the HDMI Output Info Display to OFF. This will prevent the on-screen settings from appearing in the HDMI signal.
Focus Settings: I set PRE-AF to ON. This allows the lens to continuously adjust focus. I also set the AF to Eye-Detection AUTO. With the Pre-AF and Eye Detection active, the camera accurately kept my face in focus. I used the Fujifilm XF 18-55mm lens whose focusing is fast and silent, and also allowed me to adjust zoom for easier framing.
As for power, I ran the camera for about 1.5 hours and the battery dropped down to about 50 percent. Unfortunately, the X-E4 will not run directly off the USB-C port's power, nor charge the battery while the camera is operating. However, you can buy a "dummy battery" which will allow you to plug your camera into the wall outlet. I haven't tried this out with the X-E4 yet, but I've used dummy batteries on previous cameras and they work well.
The reason I am not using the Fujifilm X Webcam software is that I was not able to set the camera to use the Pre-AF while in X-Webcam mode. For some reason, all the software settings and controls were also disabled or greyed-out. I have no idea why, but after trying out other Fujifilm software, including Fujifilm X RAW Studio, PC Image Transfer, and Fujifilm Camera Remove, I'm not confident they know what they're doing when it comes to software/apps. They never work like you'd expect it to work, disconnections are common, and there are numerous bugs.
Note that these instructions only work on cameras that output a video signal to the HDMI port. For instance, this won't work with our Fujifilm X100T nor Fujifilm X-T10 because the HDMI ports on those two cameras are only used to output stills. However, I hope this post helps other Fujifilm users who want to set up their later-generation Fujifilm cameras as webcams or video devices.